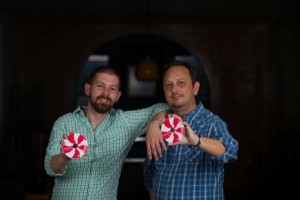 Peppermint is super proud this week to appear in the Local Economy section of Asheville, North Carolina's most trustworthy news source, Mountain Xpress. After three years of appearing on Lifehacker, Geek.com, ZDnet and our software riding front cover on the likes of Linux Format and Linux User, it's an amazing feeling to get some hometown recognition and love.
Not only did we have a great time being interviewed by Mountain Xpress writer Julia Ritchey, we were able to rid her Asus netbook of her bogged down Windows installation and breath some new life into it. Here's what Julia had to say: "I've been running Peppermint on an old Windows-choked netbook I'd all but given up on, and it's like having a brand new computer. Fast and minty fresh."
The main focal point that Kendall and I had going into this project was to simply give something freely to the world that would quite possibly outperform other operating systems that cost hundreds of dollars. Four versions later we are still focused on doing exactly what we said and that's something that makes us very proud and gratified, every step of the way. A huge thanks to everyone on Team Peppermint and our ever growing user base for your support and contributions. None of this is possible without you all.
Sincerely,
Kendall and Shane