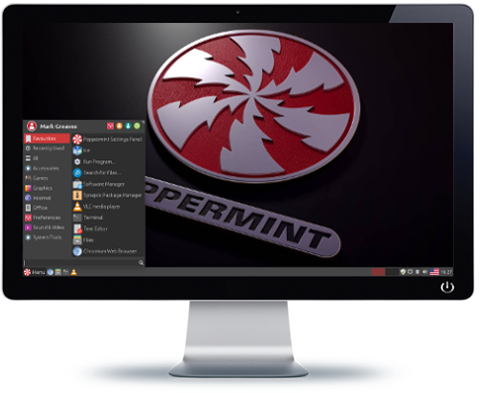 Team Peppermint are pleased to announce the latest iteration of our operating system Peppermint 8 Respin which still comes in 32bit and 64bit versions with the 64bit version having full UEFI and Secureboot support. Whilst a respin is generally a minor release intended as an ISO update, the Peppermint 8 Respin does contain some significant changes.
Peppermint 8 Respin (Peppermint-8-20171130) changes:-
Nemo 2.8.7 updated to Nemo 3.4.7 which seems more stable during large file operations, and now has a separate process for controlling the desktop.
OpenVPN updated in the repos to version OpenVPN 2.4.4 to support mixed mode IPv4/IPv6 VPN's.
Switched from lightdm-gtk-greeter to slick-greeter. So a new much prettier login screen, and a GUI utility in the menu called 'Login Window' for login screen settings, including the ability to add/change/remove an autologin user.
Added a desktop right-click "Open Peppermint Settings Panel" context menu item. We noticed that people who borked or deleted their xfce4-panel had no easy way to get to the Peppermint Settings Panel so they could use the panel reset function to recover, now they can by right-clicking on the desktop.
Installed mint-translations, so included mint applications are now available with non-English translations.
Fixed peppermint-proxy-configuration on the 32bit ISO.
Improved i3lock lock-screen, similar to the previous one but with a neater looking clock that can be changed between 12hr and 24hr
Advert Blocker reinstated by request, available in the main menu not in the Peppermint Settings Panel.
New "Pepirus" xfwm4 theme similar to the Peppermint 7 xfwm4 theme but the active window has a light grey border instead of blue, and some small colour tweaks. Most users said they preferred the Peppermint 7 window borders to the Peppermint 8 ones, so this is a 'similar' but updated theme.
New "Pepirus" icon theme with red folders, and additional icons.
New "Pepirus" Gtk theme similar to Peppermix-7-Dark-Red to fit with the new red icon and xfwm4 themes.
Changed default wallpaper to Peppermint-3D-Logo-Alternative.
Three additional Ray Bilcliff wallpapers.
Disabled Gtk overlay scrollbars, so the scrollbars don't overlay other window content making it difficult to see.
Repository now contain tweaked versions of screenfetch and neofetch with custom Peppermint logo ASCII art.
Slightly larger terminal window defaults so neofetch/screenfetch have the room necessary to display properly.
Started adding non-English translated versions of ICE to the repos .. more languages will be added later as we create them (we're putting in a lot of effort into having full non-English translations for ALL applications hopefully by Peppermint 9).
ISO's now contain all 16.04 updates (to the date of the ISO) .. so the Peppermint 8 respin ISO's ship with the 4.10.0-40 kernel from the HWE, which will automatically roll onto the 4.13 kernel via the update-manager when the HWE updates upstream (probably around February).
I should probably explain here that some people have suggested the 4.10 kernel series is no longer supported, whilst this may be true for the vanilla kernel please rest assured the Ubuntu 4.10 kernel from the HWE (as used here) is fully supported upstream and will be until you're automatically rolled onto the 4.13 kernel).
Notes:-
One thing to note is nemo's new desktop right-click context menu item(s) .. if you right-click the desktop then select "Desktop", make sure you don't select both:-
Auto-arrange
and:-
Align to grid
at the same time, or you won't be able to move any desktop icons .. when both are selected desktop icons are locked in place.
(by default only 'Align to grid' is selected)
Other things of note are the default repos now contain these terrific apps from the TeeJee repo:-
aptik
conky-manager
selene
timeshift
timeshift-btrfs
So no need to add a PPA.
If you'd like to see more of Ray's outstanding photgraphy, please visit:
http://www.raybilcliff.com/
or:
http://trueportraits.com/
or his Google+ page (photos):
https://plus.google.com/u/0/photos/+raybilcliff
Please also see the Release Notes
As with previous releases we invite you to compare Peppermint to other operating systems, we are confident you will be impressed. To take the Peppermint 8 out for a test drive, please visit our website at peppermintos.com where you can download it for free. If you need help installing the Peppermint 8, or have any questions about using it, we have a second-to-none user support team at forum.peppermintos.com please drop in even if only for a chat with friendly like-minded people .. hope to see you there.
About Peppermint OS
Peppermint OS is a software company, originally based in Asheville, North Carolina but now operating out of Cornwall England. Founded in 2010, we are committed to building the best operating system for both enterprise and consumers available on the widest range of devices. To find out more about us, please visit http://peppermintos.com.