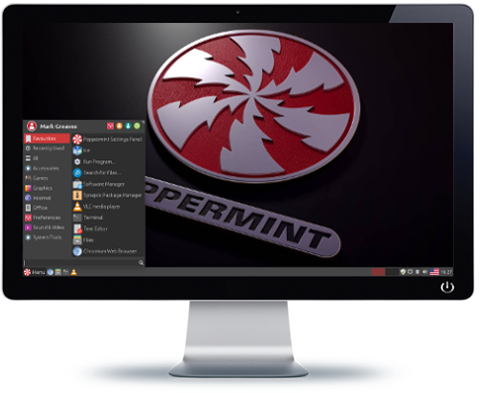 Team Peppermint are pleased to announce the latest iteration of our operating system ISO images Peppermint 8 Respin-2. This is a security refresh of the Peppermint 8 ISO images to include all updates to date (as of 3rd Feb 2018), including the Meltdown and Spectre mitigations such as the new HWE kernel 4.13.0-32 and the latest Chromium web browser version 64. The new ISO also contains bug fixes for flash content in ICE SSB's, and Chromium not remembering user selected xdg-open preferences for magnet and mailto links..
There is no need for Peppermint 8 or Peppermint 8 (first) Respin users to reinstall this version, the mitigations and bug fixes have already been pushed as automatic updates to the earlier Peppermint 8 versions.
Peppermint 8 Respin-2 is still available in 32bit and 64bit versions with the 64bit version having full UEFI and Secureboot support.
Peppermint 8 Respin-2 (Peppermint-8-20180203) changes:-
All updates as of 3rd February 2018 are included in the ISO image.
The ISO now comes with the Meltdown/Spectre mitigated 4.13.0-32 HWE kernel 'out of the box'.
The ISO now comes with the Meltdown/Spectre mitigated Chromium web browser version 64.
Fixed a bug that was stopping flash content playing in SSB's due to the option to 'always allow flash' being removed in recent versions of Chromium/Chrome.
Fixed a bug where when a user chose to tell xdg-open to remember which application to use for magnet and mailto links in Chromium, the settings were lost when the browser was restarted.
All other changes remain the same as those for the original Peppermint 8 Respin, which can be seen here:
http://peppermintos.com/2017/12/peppermint-8-respin-released/
Please also see the Release Notes which also remain the same for Peppermint 8 Respin-2
http://peppermintos.com/release-notes/
As with previous releases we invite you to compare Peppermint to other operating systems, we are confident you will be impressed. To take the Peppermint 8 out for a test drive, please visit our website at peppermintos.com where you can download it for free. If you need help installing the Peppermint 8, or have any questions about using it, we have a second-to-none user support team at forum.peppermintos.com please drop in even if only for a chat with friendly like-minded people .. hope to see you there.
About Peppermint OS
Peppermint OS is a software company, originally based in Asheville, North Carolina but now operating out of Cornwall England. Founded in 2010, we are committed to building the best operating system for both enterprise and consumers available on the widest range of devices. To find out more about us, please visit http://peppermintos.com.