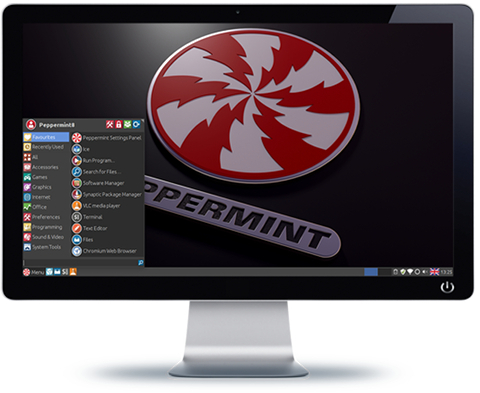 Team Peppermint are pleased to announce the latest iteration of our operating system Peppermint 8, it comes in both 32bit and 64bit editions with the latter having full UEFI / GPT / Secureboot support, a new version of Ice (our in house Site Specific Browser framework) is also included with full Chromium, Chrome, Firefox, and now Vivaldi web browser support .
Peppermint 8 (Peppermint-8-20170527) highlights:-
Still based on the 16.04 code base, but now with the 4.8 kernel series and upgraded graphics stack via the HWE offering rolling kernel and graphics stack upgrades as they become available upstream.
Mesa 17.0.2 for an improved gaming experience.
The Peppermint 8 ISO images now have an 'OEM Install' option, allowing computers to be shipped with Peppermint pre-installed (and with additional software pre-installed) where the user will be prompted for their own language, location, keyboard layout, and account details on first boot, allowing the system configuration to be unique to the new owner.
Talking of keyboard layouts, in response to user requests Peppermint 8 now has much improved keyboard layout handling, including the ability to easily configure then swap between multiple layouts from the system tray (or Left-Alt+Left-Shift keyboard shortcut) .
Added volume management, so external drives are now auto-mounted when plugged in and DVD's auto-played in VLC , a utility for changing these settings can be found in the much expanded Peppermint Settings Panel.
Again because of much appreciated user feedback we've switch back to the Chromium web browser as the default, the pepperflash PPAPI flashplayer is included, and we've retained the 'Firefox Theme Lock' utility for those that wish to use Firefox and a dark Gtk theme instead.
And many other refinements and improvements including:-
The calculator is now mate-calc because it's more consistent with the way the Windows/OS X/iOS/Android calculators processes sum entry.
The lxtask task manager has been replaced with xfce4-taskmanager because it displays more active information including a CPU and RAM usage trace.
The pluma text editor is replaced with xed, but for documentation compatibility – typing a command with 'pluma' or 'gedit' will open xed.
The eog image viewer has been replaced with xviewer because Gnome client side decorations were inconsistent with Peppermint's overall 'look and feel'.
All X-Apps are now in the Peppermint 8 repositories, so you can install pix, xreader, and xplayer if you wish, as are xfdashboard and xfce4-hotcorner-plugin for those that may want them.
Added NFS support out of the box.
Added exFAT support out of the box.
OpenDyslexic font installed out of the box as an option (not the default font).
Font hinting changed to "full" by default.
A much expanded Peppermint Settings Panel with additional features and a new 'Tweaks' category.
Added a 'Panel Reset' utility to the Peppermint Settings Panel to reset the xfce4-panel to system defaults.
Added a utility to the Peppermint Settings Panel to enable/disable system sounds.
Added a utility to the Peppermint Settings Panel to enable/disable system hibernation.
Added the 'Numix Folders' utility to the Peppermint Settings Panel which allows changing the type and colour of the folder icons when using one of the Numix icon themes.
The whiskermenu application categories have been switched to the left, and application descriptions replaced with tooltips by popular request.
Extra color options for Gtk and Icon themes
New installation slideshow.
And some new wallpapers that we hope you'll like including the new default, and some additional images by the brilliant photographer Ray Bilcliff
If you'd like to see more of Ray's outstanding photgraphy, please visit:
http://www.raybilcliff.com/
or:
http://trueportraits.com/
or his Google+ page (photos):
https://plus.google.com/u/0/photos/+raybilcliff
Please also see the Release Notes
As with previous releases we invite you to compare Peppermint to other operating systems, we are confident you will be impressed. To take the Peppermint 8 out for a test drive, please visit our website at peppermintos.com where you can download it for free. If you need help installing the Peppermint 8, or have any questions about using it, we have a second-to-none user support team at forum.peppermintos.com please drop in even if only for a chat with friendly like-minded people .. hope to see you there.
About Peppermint OS
Peppermint OS is a software company, originally based in Asheville, North Carolina but now operating out of Cornwall England. Founded in 2010, we are committed to building the best operating system for both enterprise and consumers available on the widest range of devices. To find out more about us, please visit http://peppermintos.com.